If you are a property owner and in need of instant cash, sell your house for FAST CASH with Professional real estate investors group (PREIG) Canada.  PREIG Canada members with extensive knowledge, background and training; support we buy houses in Canada.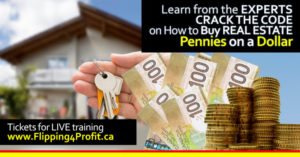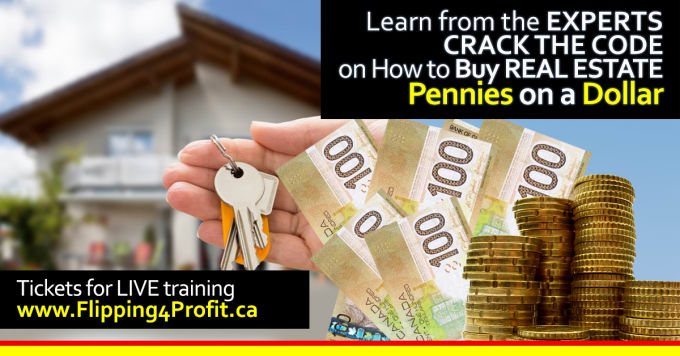 You might be aware of advertisements on Canadian real estate investors who purchase houses for cash entirely with fast closing to satisfy the needs of sellers. You may ask yourself what sort of business is buying houses? There are several reasons for buying houses in Canada and so, for selling houses.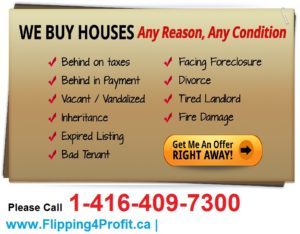 When we buy houses in Canada, we repair the house then sell it for a profit. We are able to get the repairs done for a very cheap price as construction companies offer specialized discounts to people who offer them a lot of work. The house is sold when repairs are completed. Afterwards, we buy more houses, fix and resell them. It is called fixing and flipping houses in Canada.
You might be asking yourself: How come the property owners wants to sell his/her home to Canadian real estate investors for a cheap price. There could be many reasons behind it, which include situations not under their control. Some reasons for which the property owners become panic sellers include deaths, loss of job, drugs etc.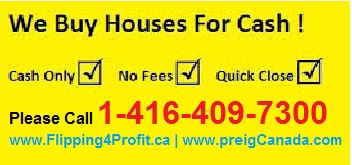 The reason we buy houses in Canada is because some people are in dire need for quick cash due to foreclosure, power of sale, delinquent payments, tax arrears, judgements, liens and or property requires a lot of repair or updating.
Sometimes it is because someone got a job and needs to move elsewhere. Another reason could be the divorce of a couple and selling the house would facilitate the liquidation of assets.
The reason for Canadian homeowners to sell their houses to Canadian real estate investors is to avoid going through a lengthy process of a real estate agent. It is very costly for the homeowner to hire an agent, manage the costs of repairs and the commission of agent which could be avoided in case of a cash buyer.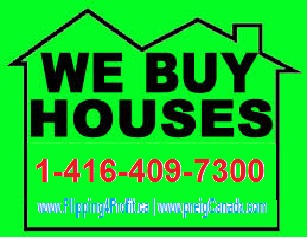 If Canadian homeowners sell their houses privately, it may not be the best option. Simply selling your home to a cash buyer would facilitate the process heavily, rather than having to perform repairs and allow unknown people into the house.
We buy houses in Canada by simply giving the owner cash and taking the property. It is very easy and does not involve any difficulties or costs.
If a Canadian homeowner wants to sell his/her house to a cash buyer, he/she can simply call them to take a look at their house. Canadian real estate investor would make an offer after looking through the house. A closing date would be set by both parties after they have negotiated the price. The investor or their lawyers will make all the paperwork. The entire process might last for only a few days.
If you wish to sell your house immediately, you would have many advantages of selling it to a cash buyer.
Sell Your House for FAST CASH
The main reasons for using a Canadian real estate investor include:
You do not need to put your house on the market by yourself
2. It is a long process to go and sell it through an agent
3. You are not obliged to pay any commission
4. In order to qualify for a mortgage, you do not have to wait for anybody
5. You can avoid power of sale and foreclosure
6. You can avoid consumers proposal or bankruptcy
7. You don't have to set appointments with buyers
8. No commission means more savings for the seller.
9. We buy houses for cash in Canada "as-is" and "where-is"
10. No need to repair
11. Fire, water or wind damage properties
12.  Basement with leaks
13. Tenants that are not good
14. Property need to be repaired
15. Dead parents house for sale
16.Tax sale
17. Auctions
18. Services for relocation
19. Partner buys out
20. Stigmatized properties
21. Ex grow op
22. Former meth labs
23. Ghost Houses
24. Deficient of cash to finish the repairs
25. Personal problems
26. Drugs, addiction or sickness
27. Presently need cash
28. Traveling
29. Problems related to family
30. Anything else –  incidental
Overall selling to a Canadian real estate investor is the best option; it doesn't involve a middleman and finishes much quicker. If the homeowner chooses to sell his/her house to a cash buyer, the process would be much quicker than having an agent sell it. That is the reason we buy houses for cash in Canada. Call or text us at 1-416-409-7300
Serving Canadians who are in desperate need to sell their property.
We can HELP !! We also BUY HOUSES. Please call:

P.S. Success isn't a matter of chance, it's a matter of choice. So it's up to you to make the right choice to become successful. If you don't know what to do it starts with making the choice to register for this LIVE real estate investors training in your town now and making sure you make the right choice to SHOW UP!!! Learn more to earn more!
Are you a Canadian real estate Investor? Join Canada's largest real estate investors club now.

Sell Your House for FAST CASH & Serving you all across GTA, Canada and the following locations:
Alberta
Calgary
Edmonton
Ft Mcmurray
Lethbridge
Medicine Hat
Peace River Country
Red Deer
Ontario
Barrie
Belleville
Brantford-Woodstock
Chatham-Kent
Cornwall
Greater Toronto Area
Guelph,
Hamilton-Burlington
Kingston
Kitchener-Waterloo-Cambridge
London, Niagara Region
Ottawa-Hull-Gatineau
Owen Sound
Peterborough
Sarnia
Sault Ste Marie
Sudbury. Thunder Bay
Toronto
Windsor
British Columbia
Cariboo, Comox Valley
Fraser Valley
Kamloops
Kelowna-Okanagan
Kootenays, Nanaimo
Peace River Country
Prince Geroge
Skeena-Bulkley
Sunshine Coast
Vancouver
Victoria
Whistler-Squamish
All Provinces
Alberta
British Columbia
Manitoba
New Brunswick
Newfoundland & Labrador
Nova Scotia
Ontario
Prince Edward Island
Quebec
Saskatchewan.
Fill the form below or please text us at 1-416-409-7300 especially facing eviction, seizure, power of sale, foreclosure..
In case it is emergency, please call or text  +1-416-409-7300